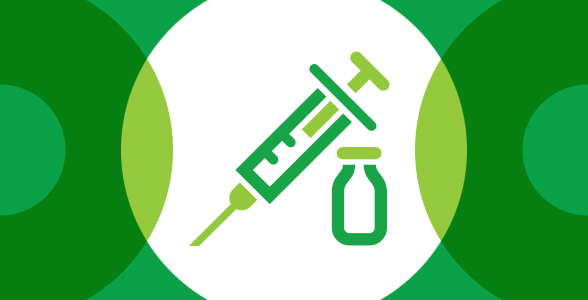 How we're approaching COVID-19 vaccination
Securian Financial remains focused on delivering high levels of service, helping customers with their insurance needs, and maintaining our financial strength.
Your support in delivering on this focus has provided valuable insights to best navigate the unpredictable nature of a pandemic, while addressing the additional risks it presents.
Over the past few months, much of our attention has turned to COVID-19 vaccinations. Not surprisingly, many questions have arisen on use of vaccination information in underwriting.
In response, our Medical & Applied Research Services team has been actively monitoring vaccine efficacy, safety, availability and uptake, which has helped develop the following summary regarding COVID-19 vaccinations:
The benefits of vaccination are evident. Vaccines are a safe way to build immunity to reduce risk of infection and/or serious illness from the infection.

Durability of protection through vaccination is less clear. The length of vaccine protection and its ability to protect against emerging variants are the subjects of ongoing studies.

COVID-19 vaccination status will be factored into an underwriting risk assessment decision should the proposed insured choose to share this information at the time of application. We do not intend to add new questions to the application booklet that specifically inquire if an applicant has been vaccinated.

Underwriters will adhere to our COVID-19 Participation Limits, in place at the time of underwriting, regardless of a proposed insured's vaccination status.

We will continue to closely watch emerging data with an intentional and disciplined path towards easement of all COVID-19 Participation Limits.
We appreciate your ongoing business and support through this process.
Contact us
Questions? Please call our Securian Life Sales Support Team at 1-888-413-7860, option 1

How COVID vaccination affects underwriting decisions
#goldencareagent
#minnesotalife
#securian